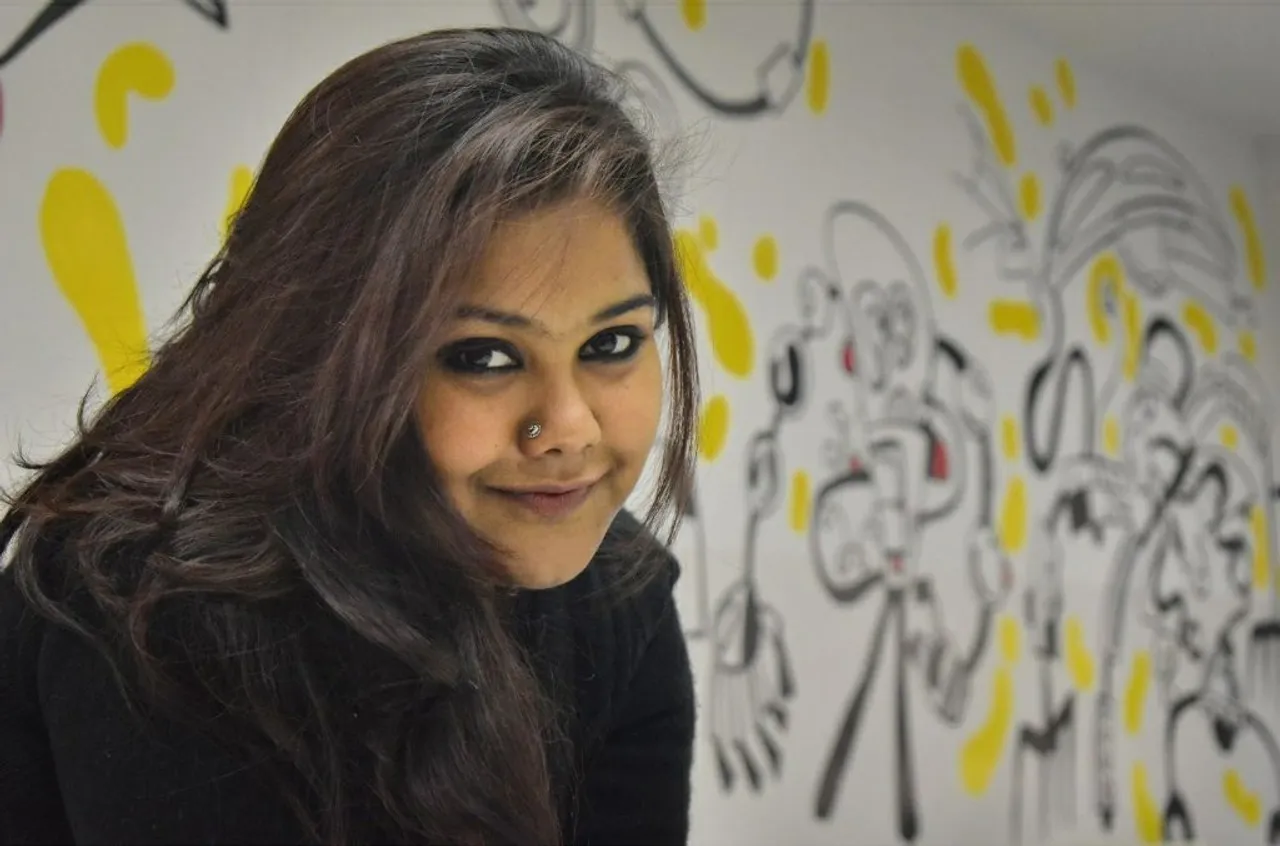 Joyeeta Bose is living her dream. The artist's work on women and their sexuality has received adulation as she expresses women as independent, fearless and fierce.
A professional artist and designer, the Kolkata based woman runs a studio, named after her with her partner Prasenjit Ghosh. One of her series is titled 'My women' in which she paints emotion, depth and power women can have. In her words, she says, her label is all about the freedom to customise and personalise art.
"I really love women and I love how complicated, how critical, how weird, happening, cool and fun they are. So it is just not about how good they are, There is so much more than just being good," she said to SheThePeople in a live interaction session. Here are 6 things we got to know about the artist from the live session.
1. Joyeeta's passion for painting and story telling
Joyeeta Bose uses her art as a form of story-telling and writing. She says many women from the earlier generations could not share their version of any story because of deep-rooted patriarchy. A male dominated society and the hurdles it brought prevented women from expressing feelings. Bose believes that she should share the stories of the women she comes across or reads about. Being blessed with the opportunity, the artist uses her art to do the same.
"I once read a quote that moved me. I said, 'In History, the maximum number of anonymous were women'. They didn't get a chance to share their version of the story. The patriarchy and different issues, which I call 'nonsense' that stopped them from just expressing their bare minimum feelings", she said. As she is born in a privileged family, she believes she is blessed with the opportunity to tell the story of the women around her.
2. Her love for women
Ever since Bose started painting, her main area of focus has been women. As a child, she says, would draw too many pictures of women. Even as a professional artist, she is inclined towards painting women. An interesting fact about paintings is that her women have different shades. They are not all the 'good women' we are used to seeing. There are women who are bold, evil and unconventional.
Talking about the different kinds of women we see all around, she said, "There are evil women, there are good women, there are bad women, there are grey women. How can you just bind them in a moral box which you have decided? That kind of bothered me when I didn't even know that it's bothering me".
3. Joyeeta's inspiration
Joyeeta draws inspiration from every person she sees. People who inspire her to paint can range from someone who works at her home to someone who sells fruits or delivers goods at her place. The artist takes inspiration from the women and other people around her, which is why she does not have to search for them.
To quote Joyeeta, "In every place, there is inspiration for me. Where there are women, where there are people, where there are people who respect other people, they are my inspiration. I don't need to search for them because there are a lot around".
4. The artist's views on financial independence of women
Bose's views on financial independence of women is a simple one. She thinks everyone should be financially independent regardless of their gender. Moreover, she firmly believes that being financially independent is something women should strive for right from the beginning of their lives. This is essential for every woman because a day might come when the people she is dependent on, stop looing after her. That day, she should be able to take care of them.
"I personally feel financial independence is the most important thing a woman should fight for from the very beginning of their life. I know I am imposing a lot on people. I know I shouldn't decide for others. You have the independence to live the life you want to. But I feel the day, the people you are trusting and depending on will not be ready to take care of you, you should be ready to take care of them. That is why I think financial independence is important for every individual, not only women....be it any gender, financial independence is important for every gender," Bose said.
5. What does Joyeeta Bose say about arranged marriages?
Joyeeta points out that in arranged marriages, women are presented as an item to men or a 'beautiful' object. This is extremely problematic. By doing so, we strip a person of their humanity. Arranged marriages can be good as well but it is a rare occurrence. This is so because both families need to be on the same terms and know what their children want. This is still somewhat uncommon in our society.
"I am so happy for everyone who is happy in their arranged marriages. But that is something so alien for me because even my parents' marriage wasn't an arranged one and mine is definitely not an arranged one....But I always respect the opinions of every woman and if they choose that for themselves, I can't go and say that they are wrong. That is another kind of patriarchy which I don't want to indulge in. But I don't like when someone is suffering and keeping shut too," Joyeeta expressed.
6. Joyeeta's message regarding safety during the pandemic
Speaking about how important it is to stay safe during the COVID-19 pandemic, Bose suggested all the viewers to follow all precautions and most importantly, not to share their prescriptions as a medical advice to others. "Please double mask. Don't believe in what rumours say. Believe in the doctors, believe in the scientists, don't spread fake news about COVID. It's about life, so don't do that and also don't share your prescriptions. I find that very troublesome. People are sharing their prescriptions and asking other people to have those medicines. Please don't be the doctor and don't do something that you are not credible to do," said the artist.
Image credits: Caleidoscope. Watch Joyeeta's live session on SheThePeople Bangla here.
---
Recommended Interviews
---