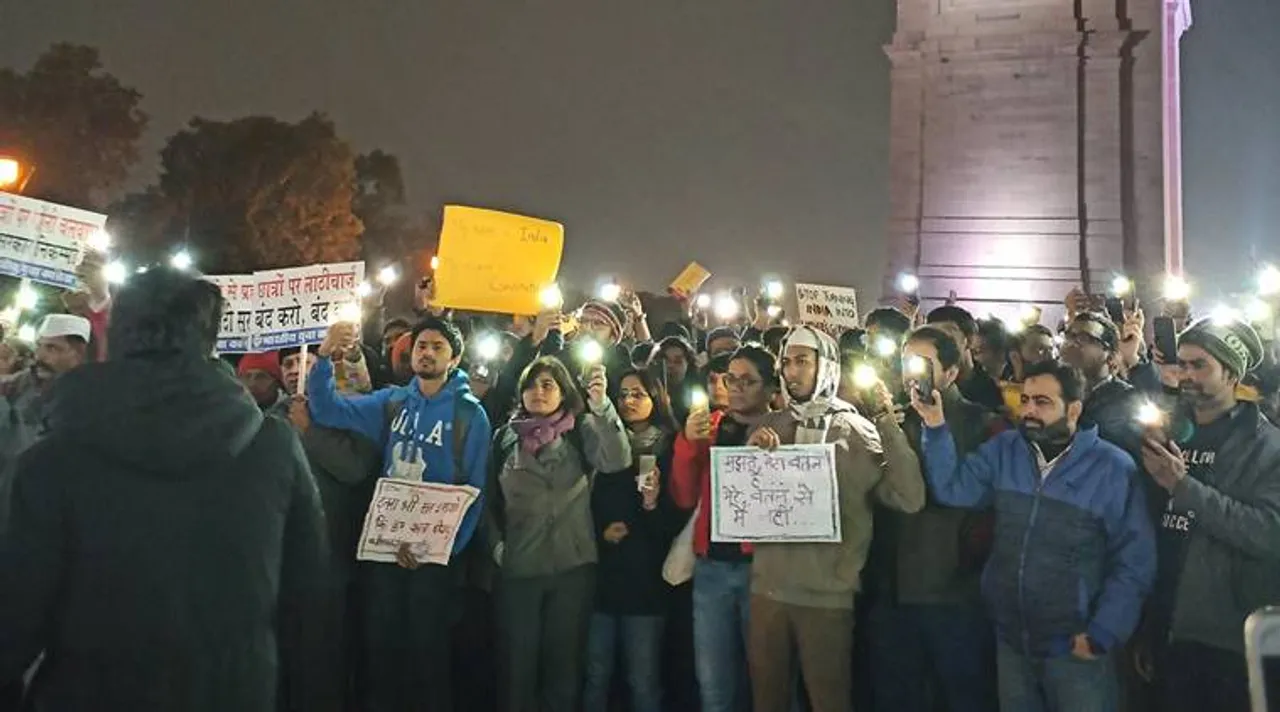 The nation is engulfed in student protests across universities, over the Citizenship (Amendment) Act and the police brutality that was meted out to students from Jamia Millia Islamia University in Delhi and Aligarh Muslim University in Uttar Pradesh. "As a student and citizen of India, it's my right to speak up against discrimination and injustice," says Aanchal Goswami, a student. Is she wrong to think that? Must student protests be "controlled" using lathi charges and tear gas? Is it okay for local police forces to storm into libraries and hostels in order to control protests? Many of these students are away from home with no relatives or guardians to take care of them. In such cases, who is responsible if these students suffer injury for the mere act of speaking up?  SheThePeople speaks with students across universities to get a picture of the hostility between local police and students, and how these protests may have fallen prey to third party interference which resulted in the situation getting out of control.
Protests at Jamia took an ugly turn
A student from A.J.K. Mass Communication Research Centre of Jamia Millia University, Adnan Khan stated that while he and the other students had carried a peaceful protest in front of the gate of the university on December 15, "There was a separate group of local protesters who went near Julena where the police had put barricades. The police claim that the students have burnt buses, but on clarification stated that they were not able to differentiate the students from the antisocial elements."
The locals were tear-gassed because of the apparent brush with the police and lathi-charged. Adnan along with his friend, Hemant were carrying banners, urging to be non-violent when the locals in Okhla were pelting stones. "All the students retreated because of the smoke, but some of the locals were chased inside the campus. We felt as if we were trapped inside, with all sides being infiltrated by the police," says Adnan.
Adnan, in the chaos, was forced to run to the library. However his ordeal was far from over. Says he, "The police started throwing tear gas canisters and firing pellet guns, making several students feel helpless. We broke through the glass window to escape to the upper floors while trying not to make any noise. Many of the students were crying at this point in time."
After this, the students were asked to have their college ids with themselves and were told to put their hands up. Adnan says he saw a group of detainees on the college grounds while being slapped by a policeman for glancing towards that group. "I managed to go outside to Zakir Nagar and called up my friends who informed me that my friend, Afreen, was hurled abuses at and was told to go back to Pakistan."
Prof. Najma Akhtar, VC, JMI says the @DelhiPolice entered the campus without permission and thrashed students studying in the library. She assures that she would pursue the matter to the highest level. #JamiaMilia #Jamia #JamiaProtest pic.twitter.com/yKVFiBnz0B

— Zafar Abbas (@zafarabbaszaidi) December 15, 2019
Severe injuries because of police brutality
Meanwhile, Indira, a student of Jamia Millia, said that she was safe in her hostel, but one of her friends was severely injured and jailed. "He was rounded up without any claim to violence, and only after persistent pleas by the lawyers who were helping the students, was he released around 4 am," reveals she.
The Medical Superintendent of Delhi's government-run Safdarjung Hospital told NDTV that two Jamia protesters were admitted with bullet injuries, directly contradicting claims by the police that they did not fire bullets at protesters.
Also Read: These Three Jamia Millia Girls Have Become The Face Of CAA Protests
DU in solidarity with the students of JMI
On December 16, several Delhi University students boycotted exams. They held a protest outside the Arts Faculty in North Campus to express their solidarity with the movement and the crackdown on their fellows.
"Thrash the circumcised," Delhi cops shouted amidst rampage against us students." https://t.co/Cp5hM9ssRz

— Rana Ayyub (@RanaAyyub) December 16, 2019
Universities across India rise in protest
In Lucknow's Nadwa College, hundreds of students assembled, yelling slogans like "Awaz do, Hum Ek Hain". They cast stones at the police who retaliated. Aligarh University campus remained sealed amid guarding by the police, a day after students clashed with them. One needs to ask here whether use of arms and tear gas is justified in any case? These are college students that we are talking about. Many of these children have come long from home to study. Who is responsible for their safety?
In Hyderabad's Maulana Azad Urdu University, students held a demonstration march post-midnight in solidarity with the Jamia students. They asked that their exams be postponed.
There were angry protests at the Banaras Hindu University in Varanasi and the Jadavpur University in Kolkata with demands that the government should take action against the police.
Students from the Mumbai University and the Tata Institute of Social Sciences (TISS) protested on the streets roaring slogans such as "Shame on Delhi Police". While, students at Central University of Kerala, Kasargod and Pondicherry University boycotted classes. Patiala's Punjab University, Patna University and Chennai's Loyola College also participated in the protests that have created ripples in the nation.
Protests at India Gate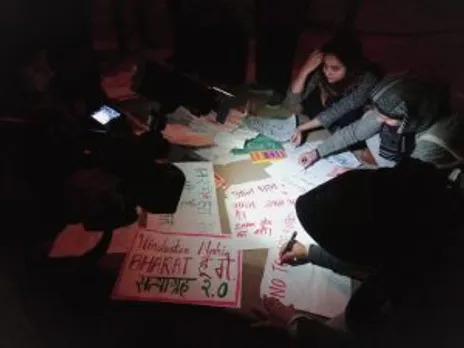 Credits: Nivedita, student
In Delhi, Congress leader Priyanka Gandhi Vadra sat on a dharna at India Gate on Monday evening and slammed the Home Ministry's action against student protesters as "brutal". Priyanka said, "An attack on students is an attack on the soul of India," as reported by India Today.
The students were reciting the Preamble of the Constitution. This was to draw focus on the freedom of expression granted by it and the unconstitutionality of the bill. Nivedita, a student protester present there recalls police presence felt there. Several teachers had joined the protest too.
Turmoil faced by many students
Rudrani, a student claims the protests to be disturbing. "Amid my exams, all I can think of is the painful experience of the students who have faced the brutality. Education has become only a means of attaining a degree and a nine tofive job. What about the choice and the voice, to take a stand on something? Those victimised in universities are students like me, only different in the aspect that they raised their voice to protest. Eventually, I can only say that education and the institutions are no more safe, a place of knowledge and freedom. The fear and trauma have made its space in the minds of the students. Now even going to college is terrifying. We go in groups to take the exams because we are all traumatised and insecure."
"As a student of Delhi University, I identify myself with the students of Jamia Millia Islamia and Aligarh Muslim University who have been exercising their rights to protest and dissent. I am proud to see the solidarity amongst students and activists from across the colleges and universities of India. However, spine chilling are the videos where I get to see to see the dilapidated infrastructure of the university, bruised faces of the students. And the alarm that it has caused around the varsity because of the brutal attack on the most sacred institution of democracy", says Udisha from Delhi University
Sasha Ahmed, 21, a student from Mumbai states that the scariest part is the realisation that this could be happening to any of us, that it could be happening to her. While Prachi from Kolkata feels that these acts of violence are against education and information- the core values of a democracy.
The right to protest
"Is this the right way? Multiple protests are going on. Many are outside in the cold, fighting in a way that any human would hesitate even to think. I ask myself this question that is this the right, our only way to protest?," Mishika puts forward a serious question.
"Protests used to be peaceful. I have been to different protests, and I have never witnessed such brutality. As a student and citizen of India, it's my right to speak up against discrimination and injustice. I was following every news related to protest happening at Jamia, and I even saw live videos on Instagram. Mainstream media is misrepresenting the information. Media blamed everything on students, and they are trying to protect the police. Police entered the girl's hostel without any permission. I feel that I'm living under the Nazi rule," states Aanchal Goswami.
"The ongoing student protests are a fundamental right under Article 19 of the Indian constitution. Protesting against the government does not make one anti-national or less of an Indian. The violence by Delhi police against unarmed students is an act of shame", says Gaurika from Gargi College.
Also Read: "I'm A Mother…": Priyanka Gandhi Condemns Crackdown On Students
Image: The Indian Express
Saumya Rastogi is an intern with SheThePeople.TV