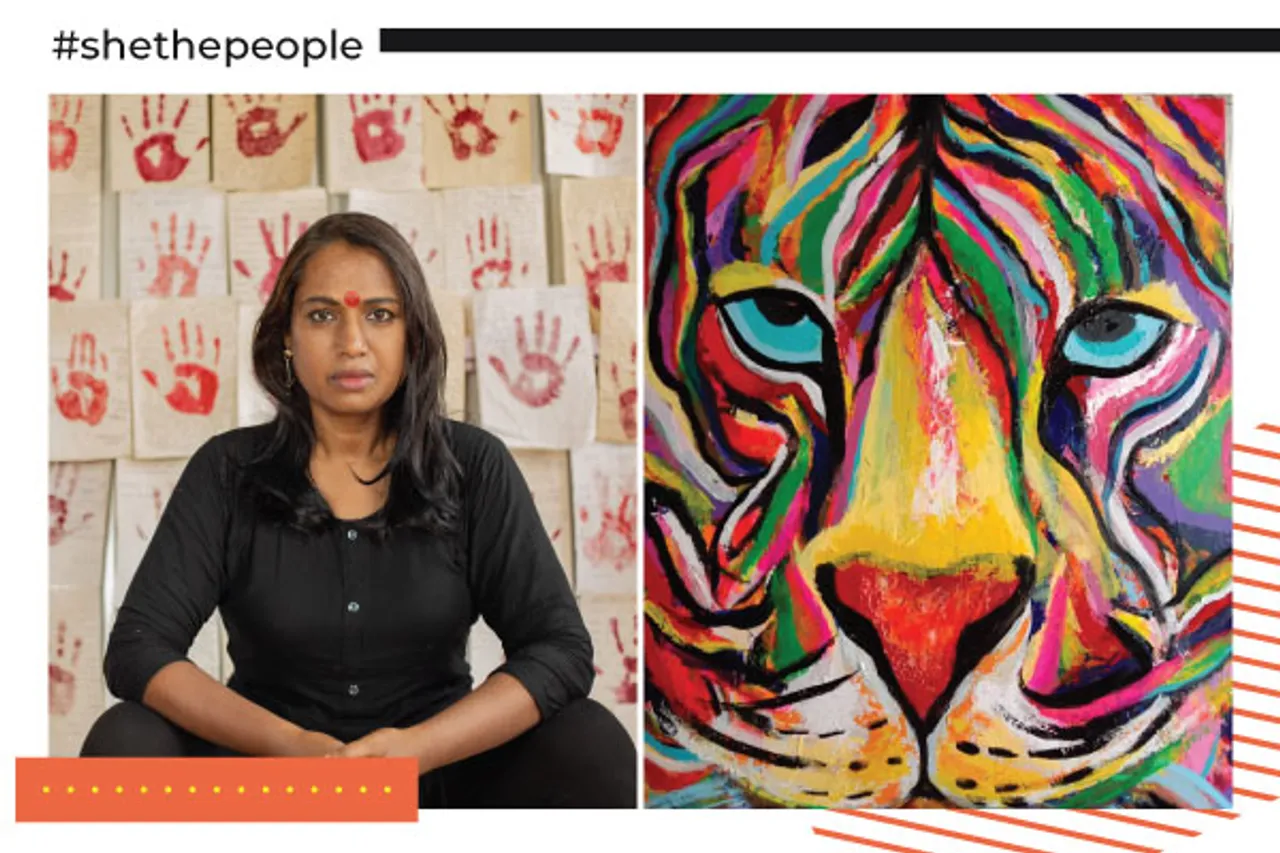 A report suggests that four out of ten transgender people in this country face sexual assault even before they turn 18. Transgender communities in India are at the receiving end of societal, structural and sexual violence. However, only a few such incidences may surface in popular media. Most of the stories remain buried within. There is an immediate need to create safe spaces for transgender people. But what all needs to be done?
Kalki Subramaniam is a transgender rights activist. One of the first transgender entrepreneurs in this country, she wears many hats. She is an artist, writer, activist and actor. She is also the founder of Sahodari Foundation which brings together members of the transgender community and creates livelihood opportunities through their various interventions.
SheThePeople.TV speaks to Subramaniam about her latest project, the Red Wall Project that documents stories of violence faced by the transgender community, their project Transhearts that aims at empowering transgender people through art, the healing power of art, art as a means of activism and creating a safe workspace for transgender people.
The Red Wall Project: Documenting Stories of Sexual Assault
Survivors of sexual assault carry the heavy burden of shame, that grows when it is not expressed and heard.  These  stories never told must be heard. We invite members from the transgender community to participate and write their story on a handmade paper, their palms are painted red and they imprint their palm on their written testimonials. The Red Wall Project aims to break the silence and shame around stories of sexual violence faced by transgender people. "We become very vulnerable right from the day we start to express our gender identity. In the course of our lives, we face bullying, rape, rejection and we don't talk about it because it's very painful and we don't have a support system, neither from family nor from law or society. It makes us vulnerable to be the object of sexual exploitation and physical assault. We want to document these stories and for the community to speak up because nobody speaks up about transgender people," says Subramanian.
Also Read: Drag As Both Performance And Entertainment: Meet Kushboo The Drag Queen
She further adds on the process of creating the stories, "This is why we chose the Red Wall Project to give them an opportunity to have a voice to strongly resist against such acts of violence. We invite members from the transgender community to participate and write their story on a handmade paper and we paint their palms red and put a red palm impression. There are more than five hundred testimonials from transgender people from across India. We take these to the universities, galleries and public spaces and we put it for the public to see and read the stories and that is how we create awareness and opportunity for our community to speak up."
She says the main aim of the project is to, evoke a discussion, dialogue and understanding within young people who may not be trans or non-binary but still feel for the survivors. "Young people tend to be vulnerable to sexual assault and bullying and we are trying to convey that it is necessary to speak up, to create awareness and justice for self and also make sure these incidents don't happen to others."
Transhearts: Creating Livelihoods Through Art
Art and commerce have always been at loggerheads. While art has many therapeutic and healing powers, it has never been associated with sustainable livelihood options. But a major part of the work that Kalki does through her foundation's project Transhearts is to use art as a means of livelihood to support transgender people in their artistic endeavours. "Being an artist I have been pursuing art seriously right since 2016. I started to commercialise it in 2017. I just knew that if you are really talented there are a lot of opportunities as an artist.  I wanted to create the opportunity for our community as well. Many of them, in the transgender community, are even more talented than me and they all deserve opportunities and so I started this project," she said.
Also Read: First Transgender Student of Punjab University: Mx Dhananjay Chauhan
Kalki feels that here are many transgender people who are not educated but are talented. Such people could pursue creativity through art and colour. She adds, "We have sold many artworks and supported many artists. We are encouraging transgender people to practice the art and continue it.  We try to sell these artworks to various galleries and through online platforms. But right now because of the lockdown we are trying to promote it only through online platforms."
The idea of creating a platform to showcase the work of transgender people came to Kalki when she started selling art and making money. "I thought our community people can also financially support themselves. Right from my childhood, I have been with them and know that they are really talented. Through Sahodari Foundation we have been giving free training and provide them with free art supplies and materials. This encourages them to create artworks and which we then put out on shows. If and when people buy it, we give the entire sale amount to the artist. To further aid this cause, I sell my personal artworks and provide art consultations as well to support myself and pay towards the education of transgender people."
Also Read: Five Transgender Person Autobiographies For Your Reading List
Art as a Medium to Connect and Heal
Through the foundation's work, Kalki has not only been uniting the transgender community in the quest to create art but also brining the public at large to exhibitions and art galleries. Art not only has the external purpose of spreading awareness and telling stories, but it also helps diverse individuals connect and heal. She says, "Art attracts people and brings them together. It helps in bringing the truth to light and gives our people the opportunity to tell their stories. It is also an aesthetic way of presenting your viewpoint presenting your talent, creativity, voice and story. People appreciate this and buy the art they connect with."
According to Kalki, art allows for healing. "Practice of art has been proven to be a therapy. Time and again, especially for people who have been victims of abuse from a young age, art helps to express and address the anger and rage out through colours," says she.
Also Read: National Council For Transgender Persons Constituted By The Centre
Transgender People and Employment
Post the 2014 NALSA judgement and 2018 Suresh Koushal judgement there has been a surge in inclusion at workspaces which are slowly becoming queer and trans affirmative. So as an entrepreneur and trans-person who also employs transgender people, how can workplaces be made inclusive and trans affirmative? Says Kalki, "The first thing that an organisation must understand is they must create an enabling environment for transgender people to work there.  Even before they employ transgender people they must create an environment of awareness regarding gender diversity and inclusion. This will ensure there won't be workplace exclusion and discrimination."
She further adds that provisions must be made for "transgender people for they have their own specific set of leaves. Transgender people might want leaves for their gender affirmative surgery and transition so the organisation should be able to understand that and support it."
Kalki is the founder of Kalki Subramaniam Fine Art.
Priyanka Chakrabarty is an intern for SheThePeople.TV.