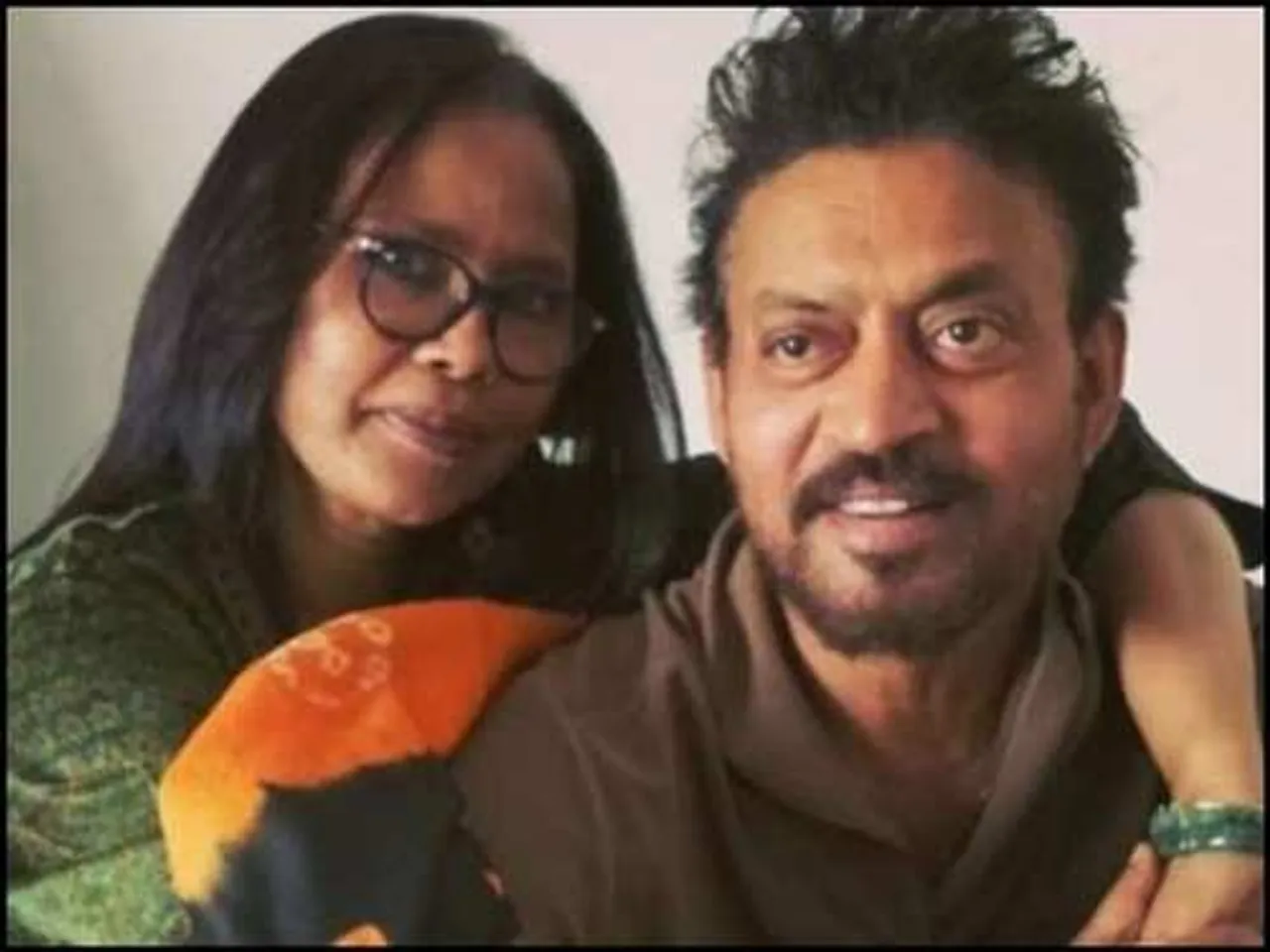 Irrfan Khan and Sutapa Sikdar love story is one of the most emotional and beautiful. Writer Sutapa Sikdar discussed her relationship with her late husband, actor Irrfan Khan in one of the recent interviews. He wasn't exactly romantic, she said, but he tried to make her feel special in his own way.
Irrfan and Sutapa were classmates at the National School Of Drama (NSD). Irrfan was a very promising student at  NSD and was cast in Salaam Bombay by Mira Nair.
His love life and marriage to Sutapa is a wonderful story for people of all ages to follow. Irrfan and Sutapa fell in love. It was fueled by their passion for film and art, which resulted in lengthy discussions. Irrfan got his big break in Salaam Bombay, where he was to play Salim, a street kid, thanks to Mira Nair's visit to NSD. However, Mira decided to change his role because he didn't look like a malnourished street kid. Instead, Irrfan made a brief appearance as a typist in Salaam Bombay. 
Sutapa had been by his side the entire time even when he was heartbroken for the very first time. They married on February 23, 1995.  They both were blessed with two baby boys. They've experienced many highs and lows professionally and personally over the years. Irrfan had a string of unsuccessful Bollywood films before Vishal Bhardwaj's Maqbool (2003) and Mira Nair's The Namesake (2006).
During his battle with the rare disease, Irrfan described Sutapa as a rock. "She is available for the family just every time. She's gotten better at caring for others, and if I live, I want to live for her. She is the driving force behind my resolve to keep going." On Rajat Sharma's talk show, Irrfan revealed that he was a "loud thinker" who used to rehearse his dialogue while speaking. Sutapa used to tell Irrfan, "Please stop rehearsing in public." "People around me used to give me stares and then look at her if I was going somewhere on the bus and repeating my dialogue," he added 
---
Suggested Reading: "Hindu Woman With One Child Is Naagin." Our Bodies Are Not Communal Battlefields
---
Sutapa is a film dialogue writer who has worked on films like Khamoshi, Shabd, and Kahaani, which many people are unaware of. With the films Madaari (2016) and Qarib Qarib Singlle (2017), which both starred Irrfan Khan, she went on to become a producer.
Sutapa was Irrfan's harshest critic, and he believed her completely when she used to say that his performance was good. The couple had also collaborated professionally on a number of occasions. Irrfan and Sutapa were both supporters and detractors of each other.
From 1993 to 1997 Khan worked for television shows, the most notable of which was his role in the sitcom Banegi Apni Baat, its screenplay was written by Sutapa. She had a  keen eye for detail in each story scenario. 
Sutapa stated that after being in a relationship with him for several years, she knew exactly how he was when she married him. She claimed that she couldn't find anything wrong with him because he forgot his own birthday. On the other hand, his small gestures made her feel special.
Sutapa and her son, Babil, have been tagging Irrfan in priceless photos on social media. In July, she shared a black-and-white photograph of herself with a heartfelt note, presumably taken by her husband. "I remember when life wasn't so black and white and was joyful with you.  I see you standing there, Nikon dangling from your neck and lenses in front of you. Irrfan Partner, I'm going to miss you. How many more miles must be covered... I'm not sure how many more roads there are."
Being Irrfan Khan wife's she is just proud and at the same time emotional that she met such a decent soul in her lifetime.
---
Suggested Reading: Don't Reduce Online Abuse Of Hindu Women To Comments On Bulli Bai Case