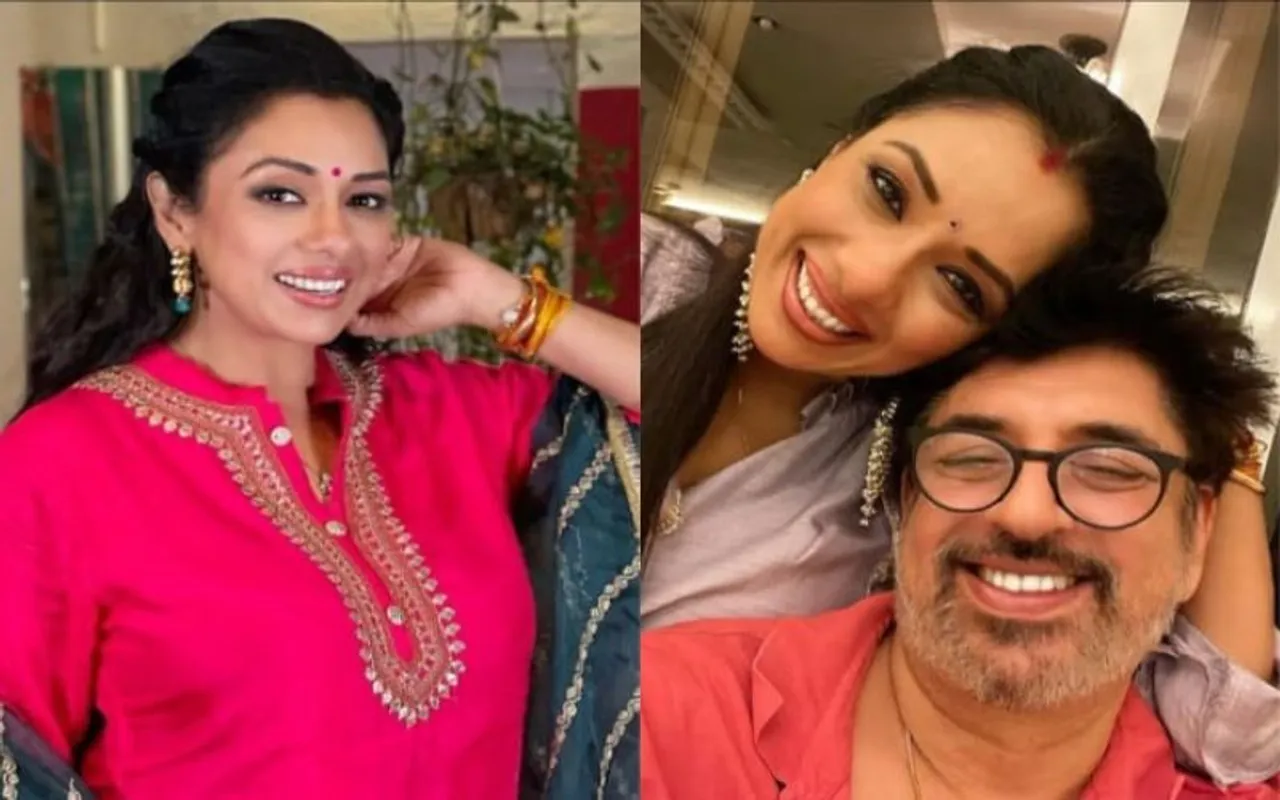 Actor Rupali Ganguly's television serial Anupamaa has turned out to be a huge hit. The 44-year-old actor is being applauded for her acting in a show, which discusses issues like domestic violence, infidelity, mental health, amongst others. However, this isn't Ganguly's first brush with popularity and the actor has a huge body of work to boast of. But a part of the credit for her renewed fame as an actor also goes to her husband.
In a recent interview, Ganguly revealed how her husband acted as a pillar of support to her and her career. Ganguly added that during the pandemic her husband, Ashwin K Verma, who is a businessman, had taken a break from work to take care of the couple's son and home so that Ganguly could focus on her career.
Rupali Ganguly on husband Ashwin's role in her career
Speaking about her second innings as an actor, post embracing motherhood, Ganguly said, "He would go to school at 12 and come back at seven. I thought it is the right time to begin working, not realising Covid ka lockdown ho jaayega. When a show was offered to me, my husband said it's high time I got my due as an actor. He has been managing everything single-handedly. I feel like a failure, but my husband does so much, it's incredible," said Ganguly.
---
Suggested Reading: Dear Men, Take A Cue From Serena Williams' Husband
---
Men like these are much required in the feminist universe. They are allies to working women, who are often made to feel guilty by society for choosing their duty towards their family over their careers. Society never considers women's careers as equally important. Their achievements are often belittled, followed by glorification of their duties as wives and moms. Similarly, men are always taught that it is their duty to earn money, and these they should always prioritise their career over everything else.
The popular saying that behind every man is a woman needs to develop according to the times we live in. Women do not always have to be behind a man's success and there is no shame for a man to be a pillar and strength to his life partner either.
We must cheer for celebrities who share snippets of their personal lives in media so that they can break gender norms and challenge social stigmas. Celebrities, for the longest, have influenced our society. People look up to them. For Ganguly's fans to find this equality and labour division at her place might be a positive example and something to consider in the 21st century.
---
Suggested Reading: Rupali Ganguly Body Shamed By "Neighbouring Aunties" For Gaining Weight
---
During her interview with Hindustan Times, she also said that her husband played the role of mother and set a wonderful example for her son. An environment like this is necessary to develop a positive effect on the minds of children too. The first social interaction that a child has is most often with their parents. At a young developing age, they witness certain house roles being played by a particular gender. This labour division is engraved in their developing brain and they might end up perceiving future relationships in a similar way.
This is why every time one hears that the parents are setting the right example before children by diving labour equally, allowing space for each partner to grow, we know that a child coming from such a house will have progressive sensibilities. It is delightful because it gives us hope in the future that men will not treat one day of sweeping as an Instagram opportunity and will actively take part in raising the children and household chores.
Do you have men in your life who have been a pillar of support and strength for your career progress? Share your stories with us.
Views expressed are the author's own.