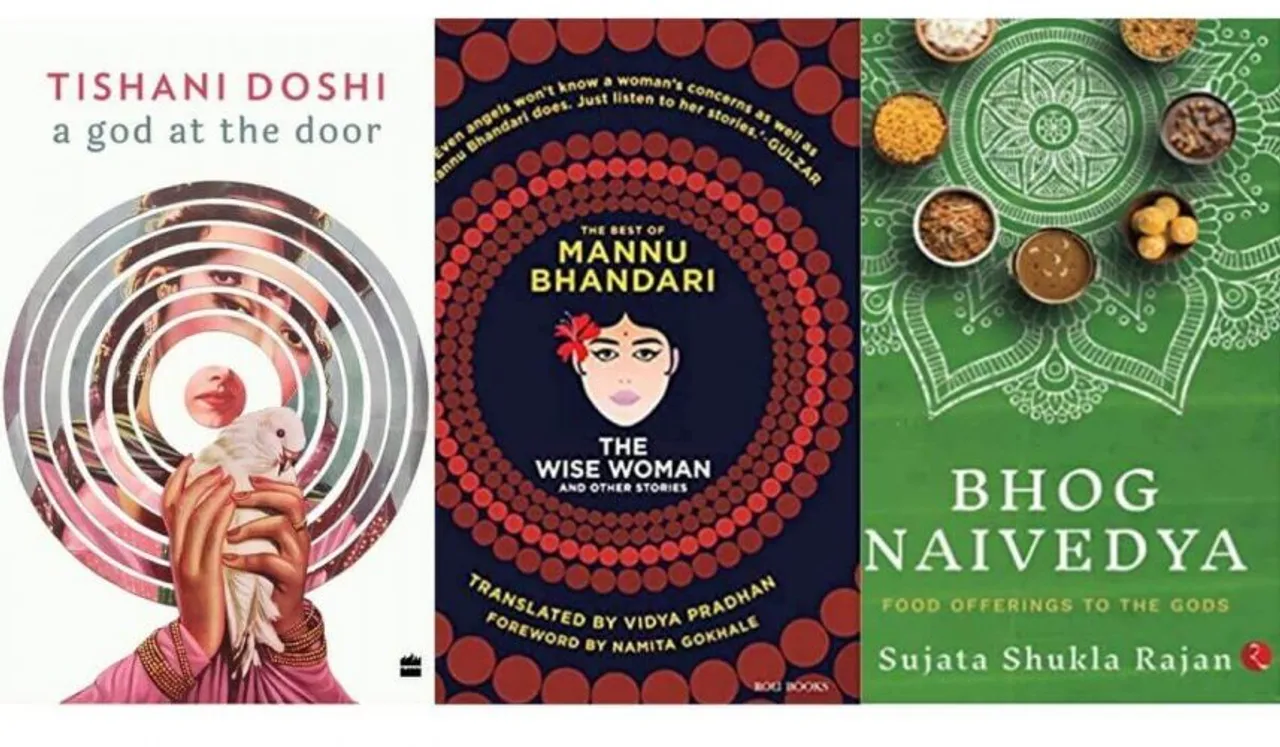 If short story, poetry are more your loved forms, as the year comes to an end here is a list of captivating Short Story, Poetry And Food Booklist by Women Authors. Tell us how many you have already read?
A Short Story Poetry Food Booklist by Women Authors:
SHORT STORIES
The Wise Woman and Other Stories: The Best of Mannu Bhandari translation Vidya Pradhan
Mannu Bhandari's genius lies not in elevating women to heroines or superior beings; rather, she forces us to acknowledge that flawed, confused, and self-centred women are as worthy of agency and respect. She has carved a singular space for herself with her unflinching gaze at the hypocrisy of a society that claims to venerate women yet balks at giving them the keys to their shackles. These 18 stories are representative of her wonderful insights into the inner life of women – her characters span the spectrum from rural to urban, illiterate to educated, homemakers to career professionals.
A Red-necked Green Bird by Ambai translation G.J.V. Prasad
Ambai's collection of short stories explores modernist concerns with its simultaneous rejection and invocation of the past. Psychologically candid, the stories capture the human mind in all its uncertainties. They tread paths of mythology-legend-philosophy even as they have conversations with the present. Life in metros, and all that comes with it—the real estate mafia, loneliness of old age trade unions, mills, the underworld, malls, art galleries—form part of her narratives. Ambai is deeply concerned about women, and in this collection too, we find women in situations and experiences that portray them as they are. Bestowed the authenticity of experience, they are thus set free.
The House Next to the Factory by Sonal Kohli
Set largely in Delhi between 1980 and 2010, the nine interlinked stories in this fine collection follow Kavya and her post-Partition immigrant family, their servants, tutors, cousins and lovers, their loneliness, aspirations and small-scale ambitions. Life in the house is humdrum and confining, but on a rare evening, Kavya sets out in search of a nun; a beloved teacher is caught in the aftermath of the anti-Sikh riots; the family's steel utensil business blossoms, and the household transitions from bourgeois to elite. Delicate and finely textured, Sonal Kohli's extraordinary debut lays bare the complexities of class and culture, even as it evokes the loves and triumphs, the pull of incongruous desires and the tragedies of everyday life.
Bombay Hangovers by Rochelle Potkar
This is the first collection of short stories from an accomplished poet. Rochelle Potkar, who grew up in Kalyan on the edges of Bombay, demonstrates her intimate connect to the city's denizens with an easy verve. From the bylanes of Kamathipura to the Ambarnath fast local, from the hopeful textile mill employee of 1980s' Bombay to the "humid passion" with which Flora Fountain's second-hand booksellers operate, places and people are brought alive with Potkar's skilful keyboard strokes. The plots serve as the canvas on which she paints the metropolis' various hues, taking you close to the sights, sounds, smells and sweat levels unique to Bombay.
The Lesbian Cow and Other Stories by Indu Menon translation Nandakumar K.
Indu Menon's stories are not for the fainthearted. At the centre of all their blood, gore and broken bones lies the inveterate spirit of women who will not go down without a fight. And yet, the unvarnished truths of her fiction also blend in unexpected ways with her poetic imagination as well as her inventive prose. Many have observed that Menon's chutzpah and visceral storytelling make her a worthy successor to Kamala Das. Appearing in English for the first time, this collection will make you marvel at the grit and raw fierceness of one of contemporary Malayalam literature's most electric writers.
Baby Doll: Stories by Gracy translation Fathima E.V.
When they were first published, Gracy's stories shocked readers with their sexual candour and frank celebration of female desire. She is now widely recognised as one of the most important contemporary writers in Malayalam. Her short stories, which vary from half a page to novella-length, draw the reader into the world of modern men and women caught in quagmires of desire, lust, jealousy and vengeance - emotions that they often carry even into the afterlife. An intimate chronicle of the world we live in.
Women Who Misbehave by Sayantani Dasgupta
This wildly original and hauntingly subversive collection of short stories is about unforgettable women and their search for agency. They are violent and nurturing, sacred and profane. They are friends, lovers, wives, sisters and mothers. Unapologetic and real, they embrace the entire range of the human experience, from the sweetest of loves and sacrifices to the most horrific of crimes. Much like the women within its pages, it contains multitudes and contradictions—it is imaginative and real, unsettling and heartening, funny and poignant, dark and brimming with light.
---
Suggested Reading:
Round up 2021: 26 Remarkable Non fiction Books by Women Authors
---
POETRY
A God at the Door by Tishani Doshi
A God at the Door invites the reader on a pilgrimage—one that leads us back to the sacred temple of ourselves. At the core of Doshi's poetry is a quest, traced through anguish and exhilaration, for that hidden yet ever-present harmony which connects all species, animates all things, heals all trauma. It tackles hyper-nationalism and misogyny head on, transforming a collective grief, anger and loneliness into a beam of hope and resilience. In an era of pandemic lockdown and brutal politics, these poems make vital space for what must come next—the return of wonder and free movement and a profound sense of connection to what matters most.
Sing of Life: Revisioning Tagore's Gitanjali by Priya Sarukkai Chabria
Rabindranath Tagore's profound meditations on life, nature, grace and brokenness in the Gitanjali won him the Nobel Prize for Literature in 1913. Sing of Life is Priya Sarukkai Chabria's virtuosic revisioning of this world classic. Limned with daring, intuition and poetic imagination, it rings true to Tagore's search for spiritual splendour, and her own questing. In this inspired linguistic experiment, she seeks to capture that spark and give it new life by chiselling Tagore's prose-poetry into intense poems that invite us to re-engage with the Gitanjali. Contemplative and courageous, this is a reimagining of Tagore and his work for a new generation of readers.
A Sky Full of Bucket Lists by Shobhana Kumar
Shobhana comes to haikai poetry from free verse with a startlingly fresh eye for the human condition. In this first book of haibun, her depictions of illness, abandonment, death and love: parental, platonic and romantic: are tender and moving. The tone is elevated and pure with an underlying sense of being wounded by reality. Yet, as the title evokes, Shobhana offers us hope with a gentle nudge to be more caring, more mindful of our interconnected lives. As a testimonial to life's struggles, the poems become a riveting tribute to the human condition, reminding us of the systole and diastole of our time here.
Speak, Woman! by Smita Agarwal
 Speak, Woman! is Smita Agarwal's third collection of poems. The book starts with her poetic persona's anger at the sexual harassment she suffered as a young woman learning her craft. This persona is adept at the rant, in which of course, she finds liberation and freedom. Agarwal speaks to us from the heart of a turbulent darkness,
writes scathing political poems and addresses national and international issues that concern many of us daily, and impact our lives directly or indirectly. Determined to break cycles of silence and resignation, these luminous poems are an emphatic indictment of an authoritarian world, and courageously articulate a deep disquiet.
The Forest I Know by Kala Ramesh
Kala Ramesh's first book in this genre, consists mainly of tanka, tanka prose and tanka doha. With stunningly bold and beautiful poems encompassing every facet of our day-to-day living, this book is at once ancient and modern, enduring and unforgettable. Beautiful, soothing and complex at times, 'The Forest I Know', takes you to a different level of journey towards the poetic world. This book comprises a mesmerizing collection of tanka passages and doha. It mostly discovers about life and its vivid stages. It talks of the feminine aura, the beauty of nature and details portraying our life.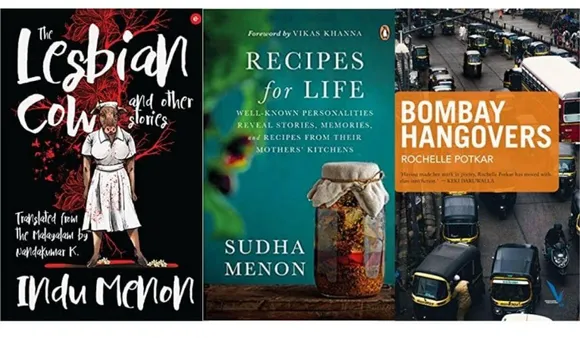 BOOKS ABOUT FOOD
Whose Samosa is it Anyway? The Story of Where 'Indian' Food Really Came From by Sonal Ved
In this book, we go on a journey of taste through the various timelines across the Indian subcontinent, from the banks of the Indus in 1900 bc to the great kingdoms of the north many centuries later; from the time of the Mauryans to when the Mughal Sultanate reigned supreme. The author takes us through the food history and traditions from the mountains in Kashmir to the backwaters of Kanyakumari; from the ports of the Bay of Bengal to the shores of the Arabian Sea. And, finally, we find out whose samosa it truly is . . .
---
Suggested Reading:
Round up 2021: 25 Most Loved Books By Women Authors, Fiction
---
A Taste of Time by Mohona Kanjilal
A Taste of Time is an insightful journey through the ever-changing landscape of Calcutta's food and cultural milieu, from its decades-old cutlet, jhal muri, and puchka stalls to its iconic continental restaurants like Firpo's and Flurys; from its oldest tea shop, Favourite Cabin, set up in 1924, to the 21st-century fine-dining restaurant "threesixtythree" . Through her immaculate research, the author deftly captures the stories behind the city's endearing culture of 'bikel chaar-ter cha' (tea at 4 p.m.); its renowned bakeries like Nahoum's; and the invention of rasogollas and samosas (or shingara). A delightful and comprehensive history of food in Calcutta, peppered with mouth-watering nuggets, recipes and intriguing accounts of some revolutionary personalities of Bengal.
Bhog Naivedya: Food Offerings to the Gods by Sujata Shukla Rajan
This book delves into the origins of sacred foods in India and brings forth its incredible diversity. Brilliantly researched and engagingly written, it is peppered with delectable tales from mythology, sumptuous temple lore, and the aromatic linkages with kings and saints, mouth-watering food descriptions and much more. Travel from Badarinath Dham in the Himalayas to the Krishna temples at Mathura and Nathdwara to discover the lovingly-performed food rituals. Wander into sacred groves and temples where serpent deities are worshipped with their choicest foods. Find the connection between Kannagi, who burnt Madurai into cinders, and Pongala, when millions of women congregate with their sacred hearths on the streets of Thiruvananthapuram, and much more.
Recipes for Life: Well-Known Personalities Reveal Stories, Memories and Age-old Family Recipes by Sudha Menon
Remember how our mothers and grandmothers would spend time in the kitchen, sharing their stories and exchanging recipes from each other's homes without writing them down? Between chopping, sautéing, grinding, and the aroma of home-cooked food laid out on the dinner table, families forged bonds that withstood the test of time. No matter how many countries we travel to and live in, the magic of our mothers' cooking never fades away. In this book, the author attempts to recreate those memories and the magic of the food we grew up with and cherish. It is replete with stories, anecdotes and recipes from the homes of some of India's much admired and accomplished people.
A Taste of My Life: A Memoir in Essays and Recipes by Chitrita Banerji
In this memoir, styled like a three-course meal with an ironic twist, the author offers an absorbing portrait of a life that has intermingled with food in moving and unexpected ways. Through vividly evoked repasts with family, and other meaningful gastronomic encounters in settings both personal and political, Banerji reveals how food has played a defining role in her experiences of love, adventure, conflict, loss and reconciliation. In the process, she introduces us to those dishes and drinks most special to her – Kadam Bhai's duck bhuna, her father's favourite tea, winter treats such as narkel naru, a chicken sandwich from memory land – and charms us throughout with her sublime and enchanting prose.
Spiced, Smoked, Pickled, Preserved: Recipes and Reminiscences from India's Eastern Hills by Indranee Ghosh
In this book, Indranee Ghosh brings together charming vignettes from her youth in the densely forested Khasi Hills and then in Bengal's plains with a delectable selection of family recipes passed down over three generations to weave an utterly engaging narrative. Tales of eccentric kith and kin, family folklore from the time of the Second World War and memories of Partition jostle with stories of kitchen adventures, reminiscences of cherished gatherings where food always took centre stage and fascinating nuggets on hard-learnt culinary techniques.
Compiled by Archana Pai Kulkarni. The views expressed are the author's own.
You can also join SheThePeople's Book club on Facebook, LinkedIn and Instagram.